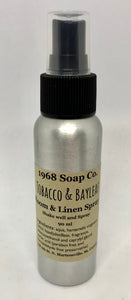 This spray is excellent for classing up a room or sprucing up your closet. The scent is subtle yet classy, if it were a person it'd be Henry Cavill.
Shake well and spray.
Ingredients: aqua, hamamelis virginiana (witch hazel) distillate, fragrance, phenoxyethanol and caprylyl glycol, sorbic acid (paraben and formaldehyde free preservative).
Approx. 90ml