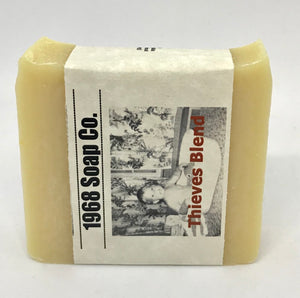 Fireball who? This invigorating blend of oils that will open your sinuses. This seasonal (limited quantities) bar is perfect for winter.
Our soap is created in small batches and your bar of soap may differ slightly from the photo in this listing.  All bars are approximately 4 ounces. 
Ingredients: Sodium Olivate (Olive Oil), Sodium Cocoate (Coconut Oil), Prunus Amygdalus Dulcis (Sweet Almond Oil), syzgium aromativum, rosmarinus officinalis, citrus lemanum, eucalyptus radiata, cinnamonum zeyeanicum, (Grapefruit Seed extract).
*Please note the ingredient list, if you are allergic to or have a sensitivity to any of the ingredients, test in a small area first and if it irritates your skin, discontinue to use. 
*Paraben Free
*Dye Free
*Phthalate Free
*Gluten Free
*Vegan
Local pick up is available at checkout