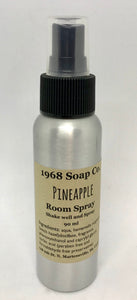 Pineapple more like FINEapple am I right? That's a rhetorical question I'm always right, especially when it comes to this spray. Whether you're craving pina colada's, Lifesavers, or maybe you're just feeling fruity in general look no further this is your fix.
Shake well and spray.
Ingredients: aqua, hamamelis virginiana (witch hazel) distillate, fragrance, phenoxyethanol and caprylyl glycol, sorbic acid (paraben and formaldehyde free preservative).
Approx. 90ml