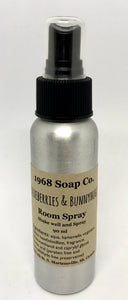 Violet you're turning violet! Don't worry this spray won't turn you violet, but it will inspire you to make blueberry muffins OR help trick people into thinking you can make blueberry muffins (we'll never tell). 
Shake well and spray.
Ingredients: aqua, hamamelis virginiana (witch hazel) distillate, fragrance, phenoxyethanol and caprylyl glycol, sorbic acid (paraben and formaldehyde free preservative).
Approx. 90ml