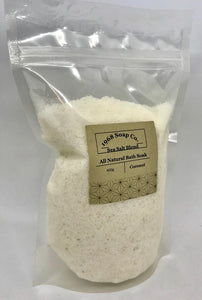 Picture this: the air is hot and smells of coconuts, there's sand between your toes.....wait no that's salt and you're in your bathtub. Close enough, this scent is so nice you'll think you're in paradise. ;)
Soak Directions: Add approximately 1/4 - 1/2 cup to running bath water. Soak and relax, you deserve it! 
Ingredients: Magnesium sulfate, sodium chloride, maris sal, tapioca starch, parfum.
Approx. 400g